What is DeHR?
The Consortium for Decentralized HR (DeHR) is a volunteer staffed entity set up in early 2020 by Competitive Edge Technology (CET) and the International Association for Human Resource Information Management (IHRIM) to address a technology transition need.
The purpose of the organisation is to provide guidance to the HR global community as new technology emerges. As earlier generations of technology (mainframe packaged, client/server, cloud and Saas) reached the market they were dominated by large companies that knew very little about HR but saw huge profits in building monolithic proprietary systems and used their massive "marketing machines" to obtain market share.
"That must not be allowed to happen as we enter a new era of digital HR platforms and open application architecture for better fitting and more reasonably priced solutions. HR products will be based on microservices component design and NOT monolithic, singular products, buy from the same vendor, style design". Quote from CET
As we emerge from COVID we find the world has changed. While people were physically restricted their innovative minds were not: Great advances in quantum computing, photonics (computing at the speed of light), orbital Edge computing, AI, IoT, 5G connectivity and satellite enabled zero latency internet have opened up new ways of conducting business, made massive advances in productivity and introduced a new competitive space based precinct.
To be competitive companies must discard their aging legacy systems and adopt the new computing architecture and embrace the democratization of data and application ownership.
DeHR will work with partners to deliver an open composable platform for interchangeable business applications. The platform will be based on Web3 Distributed Ledger Technology design, peer-to-peer networking, advanced governance models to ensure privacy and security and interoperable system assembly. For more information see the Technology section.
DeHR subcommittees are being set up to make sure there is input from the brightest brains in the HR industry and the principles of democratization apply. Everyone who feels they have something to offer are encouraged to contact us to express an interest so their particular expertise can make a valuable contribution to the evolution of DeHR.
Web3 & DLT is the Future
A recent article published in the International Association for Human Resource Information Management (IHRIM) describes the technology that will emerge over the next decade.
The Scope and Impact of Web3 on HR Systems By John Macy and Dennis Hill, Ph.D.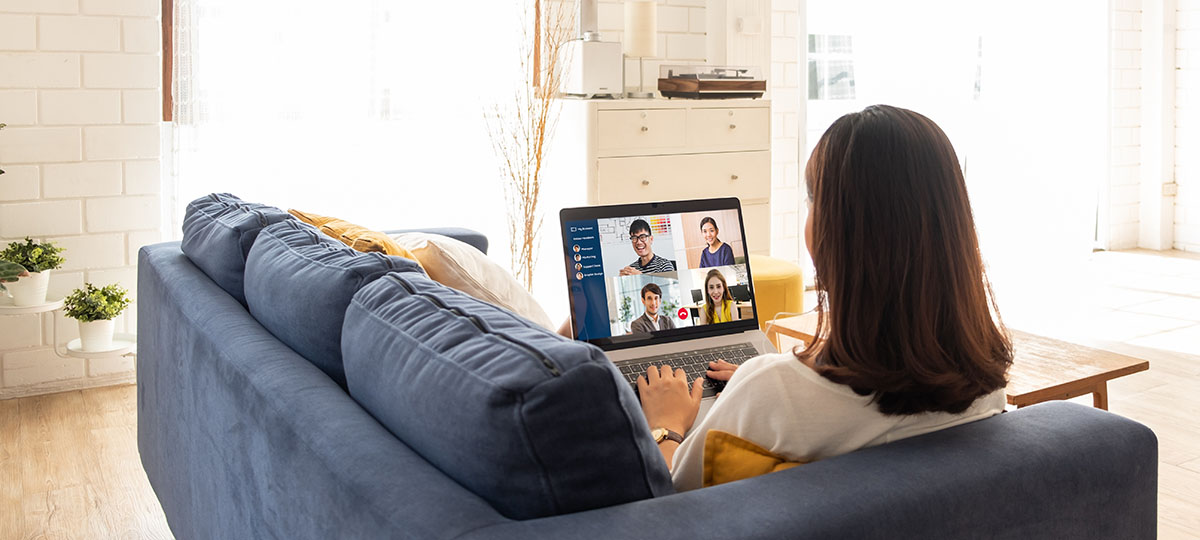 Quote from IHRIM's WSR Q1 2022 article: "The Web3 HR platform offers an imminent future consisting of open-source frameworks for modular assembly and composable application development and energy-conscious hosting services for a sustainable future. Current enterprise platforms will be disrupted, and the adoption of new Metaversestyle applications and edge computing devices will render existing applications obsolete…and very quickly."
Using ChatGPT to Accelerate the Web3 Transition
The image below illustrates a high level project plan that has been formatted based on ChatGPT content without alteration.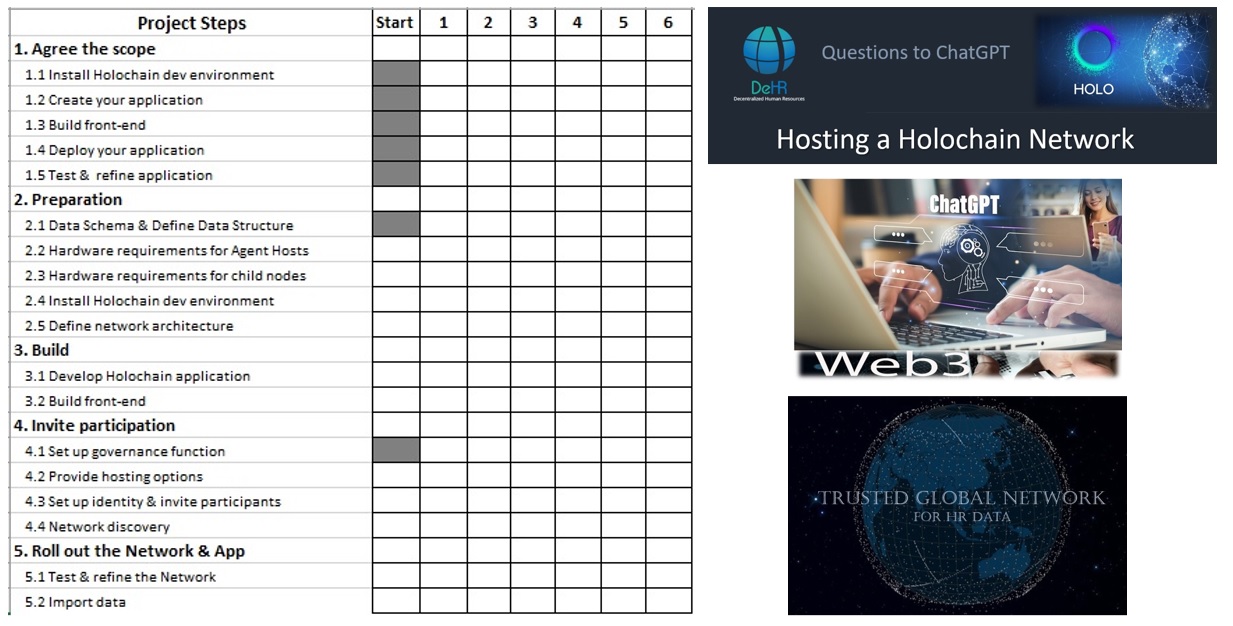 Understanding the Scope of Transition
Saves months of work asking questions and translating into an action plan.

Click on the image above to be taken to the Hosting a Holochain Network page and see the 58 questions put to ChatGPT with the intention to help non-IT HR professionals and company management understand the hosting process. Each question has a hyperlink to the Consortium for Decentralized HR LinkedIN Group. Interested parties are invited to FACT CHECK the ChatGPT response, make comments or start a discussion.
Developing the Holochain Application & Role of Low Code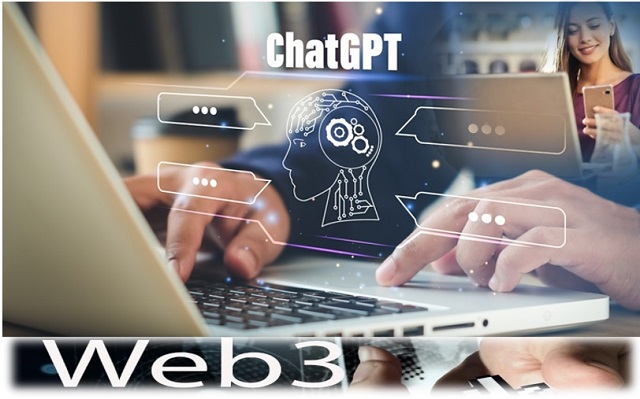 Please see the LinkedIn article ChatGPT has the Potential to Accelerate HR Transition to Web3 for more detail
The ChatGPT material in the 58 questions document has been used to provide steps shown in the earlier project plan image. Click on the image below to see the result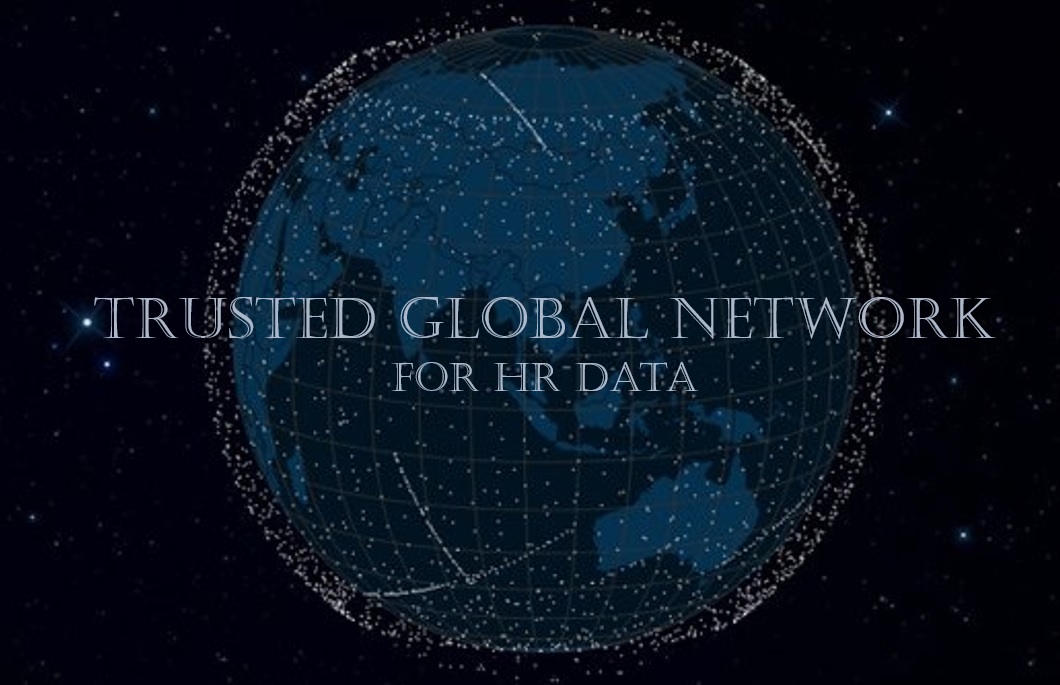 Trust Based on a Global Governance Model
The Governance function, authenticating platform membership and transactional activity, will be a role for accredited HR associations and members of DeHR, explained in more detail below. As the DLT platform evolves an agent centric hosting model will provide attractive benefits for TGN Network participants.
Membership of DeHR
Membership of DEHR will initially be by invitation to the top layer HR Membership Associations around the world. See below for a list of associations.
Invitations to participate in the second layer will be to authenticated companies and enterprises around the world and will be issued by the relevant regional HR Membership Association.
Once the approval process has taken place employee private data, currently held in approved companies' HR legacy databases, can be uploaded to DLT ledgers. Employees will be given access to their data and control over the maintenance and access privileges from requesting entities.
For more information see the Governance and Membership sections of this website.
---
Join the Consortium for Decentralized HR LinkedIn Group and participate in discussions and learn more about the transformation of HR Technology in the Web3 era.